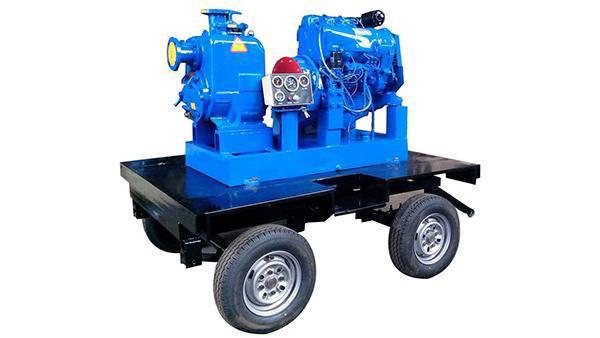 Flow range: 5-800m3/h
Head range: 12-60m
Working temperature: ≤200℃
Matched Power: 2.2-2.5KW
Speed: 1450-2900r/min
Diameter: DN25-DN300mm
Wet ends material: cast iron, stainless steel
Structure: horizontal, centrifugal, self-priming
Brief introduction
Ordinary centrifugal pumps do not need to be filled with water, and as the ZW series sewage pumps are equipped with a bottom valve, they also have no need for filling water. This series of horizontal pumps can be used through direct placement in a trailer, making usage both flexible and convenient.
This series of sewage pumps can be used to pump and discharge liquid containing large solids and long fiber impurities, and is especially suitable for the drainage of urban rainfall and accumulated water.

Features
The driver is optional in either a motor or diesel engine form.
This pump can withstand a high temperature of 80℃. We can also customize the special material to withstand a high temperature of 200℃ for customers.
Mechanical seal is used.
Optional models
| | | | | | | | | | | |
| --- | --- | --- | --- | --- | --- | --- | --- | --- | --- | --- |
| Model | Discharge port size (mm) | Flow (m3/h) | Head (m) | Self-priming head (m) | Power (km) | Speed (r/min) | Efficiency (%) | NPSH (m) | Weight (kg) | Inquiry |
| 25ZW8-15 | 25 | 8 | 15 | 5.5 | 2.2 | 2900 | 45 | 2 | 100 | |
| 32ZW5-20 | 32 | 5 | 20 | 5.5 | 2.2 | 2900 | 45 | 2.5 | 100 | |
| 32ZW10-20 | 32 | 10 | 20 | 5.5 | 2.2 | 2900 | 45 | 2.5 | 100 | |
| 32ZW9-30 | 32 | 9 | 30 | 5.5 | 3 | 2900 | 48 | 2.5 | 120 | |
| 40ZW10-20 | 40 | 10 | 20 | 5.5 | 2.2 | 2900 | 45 | 2.5 | 100 | |
| 40ZW20-15 | 40 | 20 | 15 | 5.5 | 2.2 | 2900 | 45 | 2.5 | 100 | |
| 40ZW15-30 | 40 | 15 | 30 | 5.5 | 3 | 2900 | 48 | 2.5 | 120 | |
| 50ZW10-20 | 50 | 10 | 20 | 5.5 | 2.2 | 2900 | 45 | 2.5 | 100 | |
| 50ZW20-12 | 50 | 20 | 12 | 5.5 | 2.2 | 2900 | 45 | 2.5 | 100 | |
| 50ZW15-30 | 50 | 15 | 30 | 5.5 | 3 | 2900 | 48 | 2.5 | 120 | |
| 50ZW20-35 | 50 | 20 | 35 | 5.5 | 5.5 | 2900 | 48 | 2.5 | 150 | |
| 65ZW30-18 | 65 | 30 | 18 | 5.5 | 4 | 1450 | 45 | 2.5 | 200 | |
| 65ZW25-30 | 65 | 25 | 30 | 5.5 | 5.5 | 2900 | 50 | 3 | 200 | |
| 65ZW25-40 | 65 | 25 | 40 | 5.5 | 7.5 | 2900 | 50 | 3 | 200 | |
| 65ZW40-25 | 65 | 40 | 25 | 5.5 | 7.5 | 2900 | 50 | 3 | 200 | |
| 65ZW65-25 | 65 | 65 | 25 | 5.5 | 11 | 2900 | 52 | 3 | 240 | |
| 80ZW40-16 | 80 | 40 | 16 | 5 | 4 | 1450 | 50 | 3 | 240 | |
| 80ZW40-25 | 80 | 40 | 25 | 5.5 | 7.5 | 2900 | 50 | 3 | 200 | |
| 80ZW25-40 | 80 | 25 | 40 | 5.5 | 7.5 | 2900 | 50 | 3 | 200 | |
| 80ZW65-25 | 80 | 65 | 25 | 5.5 | 11 | 2900 | 52 | 3 | 240 | |
| 80ZW80-35 | 80 | 80 | 35 | 5.5 | 15 | 2900 | 45 | 3 | 285 | |
| 80ZW80-35 | 80 | 80 | 35 | 5.5 | 15 | 1450 | 50 | 3 | 450 | |
| 80ZW50-60 | 80 | 50 | 60 | 5 | 22 | 2900 | 55 | 3 | 340 | |
| 100ZW100-15 | 100 | 100 | 15 | 5.5 | 7.5 | 1450 | 50 | 4 | 300 | |
| 100ZW80-20 | 100 | 80 | 20 | 5.5 | 7.5 | 1450 | 53 | 4 | 300 | |
| 100ZW100-20 | 100 | 100 | 20 | 5.5 | 11 | 1450 | 53 | 4 | 340 | |
| 100ZW100-30 | 100 | 100 | 30 | 5.5 | 22 | 2900 | 53 | 4 | 510 | |
| 125ZW120-20 | 125 | 120 | 20 | 5.5 | 15 | 1450 | 55 | 4.5 | 500 | |
| 150ZW180-14 | 150 | 180 | 14 | 5.5 | 15 | 1450 | 60 | 5 | 500 | |
| 150ZW180-20 | 150 | 180 | 20 | 5 | 22 | 1450 | 60 | 5 | 570 | |
| 150ZW180-30 | 150 | 180 | 30 | 5 | 37 | 1450 | 65 | 5 | 680 | |
| 150ZW180-38 | 150 | 180 | 38 | 6 | 55 | 1450 | 45 | 5 | 800 | |
| 200ZW280-14 | 200 | 280 | 14 | 5 | 22 | 1450 | 65 | 5 | 700 | |
| 200ZW280-28 | 200 | 280 | 28 | 5.2 | 55 | 1450 | 55 | 4 | 940 | |
| 250ZW420-20 | 250 | 420 | 20 | 4.5 | 55 | 1450 | 61 | 6 | 1150 | |
| 300ZW800-14 | 300 | 800 | 14 | 4.5 | 55 | 1450 | 65 | 6 | 1400 | |