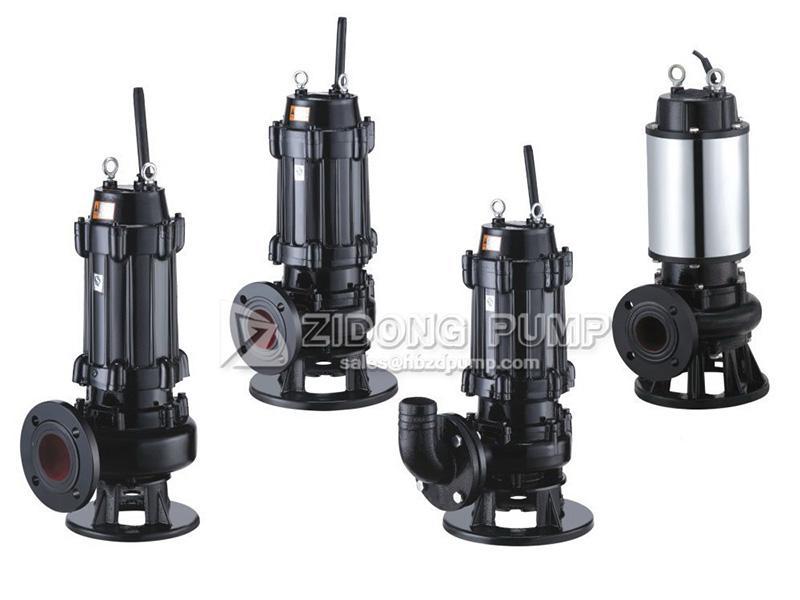 Flow range: 8-2600m3/h
Head range: 7-60m
Matched Power: 0.75-250KW
Working pressure: ≤1.0MPa
Speed: 740-2930r/min
Material: cast iron
Brief introduction
The QW series submersible sewage pump has an integral motor and pump, which improves its portability. As it can be directly immersed in water, it is extremely practical.
This pump is often used for delivering sewage, waste water, rainfall and domestic water containing solid particles. It is also used in municipal engineering, industrial sewage, mine sewage and other fields.
Features
The open impeller will not be easily blocked when conveying the medium inside. This makes the pump more efficient, and capable of delivery fibers with a length that is 5 times the port diameter, or solid particles with a diameter that is half of the pump port diameter.
Because sewage drainage has no strict requirements for pump wear resistance, the wet ends, the pump casing, and the body of the QW series pumps are made of an economic, practical cast iron.
The mechanical seal features a corrosion resistant carbon-tungsten hard alloy. The seal features dual end sealing, thus achieving a service life of more than 8,000 hours.
Optional models
| | | | | | | | |
| --- | --- | --- | --- | --- | --- | --- | --- |
| Model | Diameter (mm) | Flow (m3/h) | Head (m) | Power (kw) | Speed (r/min) | Efficiency (%) | Inquiry |
| QW25-8-15-1.1 | 25 | 8 | 15 | 1.1 | 2825 | 38.5 | |
| QW32-12-15-1.1 | 32 | 12 | 15 | 1.1 | 2825 | 40 | |
| QW40-15-15-1.5 | 40 | 15 | 15 | 1.5 | 2840 | 45.1 | |
| QW40-15-30-2.2 | 40 | 15 | 30 | 2.2 | 2840 | 48 | |
| QW50-20-7-0.75 | 50 | 20 | 7 | 0.75 | 1390 | 54 | |
| QW50-10-10-0.75 | 50 | 10 | 10 | 0.75 | 1390 | 56 | |
| QW50-20-15-1.5 | 50 | 20 | 15 | 1.5 | 2840 | 55 | |
| QW50-15-25-2.2 | 50 | 15 | 25 | 2.2 | 2840 | 56 | |
| QW50-18-30-3 | 50 | 18 | 30 | 3 | 2880 | 58 | |
| QW50-25-32-5.5 | 50 | 25 | 32 | 5.5 | 2900 | 53 | |
| QW50-20-40-7.5 | 50 | 20 | 40 | 7.5 | 2900 | 55 | |
| QW65-25-15-2.2 | 65 | 25 | 15 | 2.2 | 2840 | 52 | |
| QW65-37-13-3 | 65 | 37 | 13 | 3 | 2880 | 55 | |
| QW65-25-30-4 | 65 | 25 | 30 | 4 | 2890 | 58 | |
| QW65-30-40-7.5 | 65 | 30 | 40 | 7.5 | 2900 | 56 | |
| QW65-35-50-11 | 65 | 35 | 50 | 11 | 2930 | 60 | |
| QW65-35-60-15 | 65 | 35 | 60 | 15 | 2930 | 63 | |
| QW80-40-7-2.2 | 80 | 40 | 7 | 2.2 | 1420 | 52 | |
| QW80-43-13-3 | 80 | 43 | 13 | 3 | 2880 | 50 | |
| QW80-40-15-4 | 80 | 40 | 15 | 4 | 2890 | 57 | |
| QW80-65-25-7.5 | 80 | 65 | 25 | 7.5 | 2900 | 56 | |
| QW100-80-10-4 | 100 | 80 | 10 | 4 | 1440 | 62 | |
| QW100-110-10-5.5 | 100 | 110 | 10 | 5.5 | 1440 | 66 | |
| QW100-100-15-7.5 | 100 | 100 | 15 | 7.5 | 1440 | 67 | |
| QW100-85-20-7.5 | 100 | 85 | 20 | 7.5 | 1440 | 68 | |
| QW100-100-25-11 | 100 | 100 | 25 | 11 | 1460 | 65 | |
| QW100-100-30-15 | 100 | 100 | 30 | 15 | 1460 | 66 | |
| QW100-100-35-18.5 | 100 | 100 | 35 | 18.5 | 1470 | 65 | |
| QW125-130-15-11 | 125 | 130 | 15 | 11 | 1460 | 62 | |
| QW120-130-20-15 | 125 | 130 | 20 | 15 | 1460 | 63 | |
| QW150-145-9-7.5 | 150 | 145 | 9 | 7.5 | 1440 | 63 | |
| QW150-180-15-15 | 150 | 180 | 15 | 15 | 1460 | 65 | |
| QW150-180-20-18.5 | 150 | 180 | 20 | 18.5 | 1470 | 75 | |
| QW150-180-25-22 | 150 | 180 | 25 | 22 | 1470 | 76 | |
| QW150-130-30-22 | 150 | 130 | 30 | 22 | 1470 | 75 | |
| QW150-180-30-30 | 150 | 180 | 30 | 30 | 1470 | 73 | |
| QW150-200-30-37 | 150 | 200 | 30 | 37 | 1480 | 70 | |
| QW200-300-7-11 | 200 | 300 | 7 | 11 | 970 | 73 | |
| QW200-250-11-15 | 200 | 250 | 11 | 15 | 970 | 74 | |
| QW200-400-10-22 | 200 | 400 | 10 | 22 | 1470 | 76 | |
| QW200-400-13-30 | 200 | 400 | 13 | 30 | 1470 | 73 | |
| QW200-250-15-18.5 | 200 | 250 | 15 | 18.5 | 1470 | 72 | |
| QW200-300-15-22 | 200 | 300 | 15 | 22 | 1470 | 73 | |
| QW200-250-22-30 | 200 | 250 | 22 | 30 | 1470 | 71 | |
| QW200-350-25-37 | 200 | 350 | 25 | 37 | 1980 | 75 | |
| QW200-400-30-55 | 200 | 400 | 30 | 55 | 1480 | 70 | |
| QW250-600-9-30 | 250 | 600 | 9 | 30 | 980 | 74 | |
| QW250-600-12-37 | 250 | 600 | 12 | 37 | 1480 | 78 | |
| QW250-600-15-45 | 250 | 600 | 15 | 45 | 1480 | 75 | |
| QW250-600-20-55 | 250 | 600 | 20 | 55 | 1480 | 73 | |
| QW250-600-25-75 | 250 | 600 | 25 | 75 | 1480 | 73 | |
| QW300-800-12-45 | 300 | 800 | 12 | 45 | 980 | 76 | |
| QW300-500-15-45 | 300 | 500 | 15 | 45 | 980 | 70 | |
| QW300-800-15-55 | 300 | 800 | 15 | 55 | 980 | 73 | |
| QW300-600-20-55 | 300 | 600 | 20 | 55 | 980 | 75 | |
| QW300-800-20-75 | 300 | 800 | 20 | 75 | 980 | 78 | |
| QW300-950-20-90 | 300 | 950 | 20 | 90 | 980 | 80 | |
| QW300-1000-25-110 | 300 | 1000 | 25 | 110 | 980 | 82 | |
| QW350-1100-10-55 | 350 | 1100 | 10 | 55 | 980 | 84.5 | |
| QW350-1500-15-90 | 350 | 1500 | 15 | 90 | 980 | 82.5 | |
| QW350-1200-18-90 | 350 | 1200 | 18 | 90 | 980 | 83.1 | |
| QW350-1100-28-132 | 350 | 1100 | 28 | 132 | 740 | 83.2 | |
| QW350-1000-36-160 | 350 | 1000 | 36 | 160 | 740 | 78.5 | |
| QW400-1500-10-75 | 400 | 1500 | 10 | 75 | 980 | 82.1 | |
| QW400-2000-15-132 | 400 | 2000 | 15 | 132 | 740 | 85.5 | |
| QW400-1700-22-160 | 400 | 1700 | 22 | 160 | 740 | 82.1 | |
| QW400-1500-26-160 | 400 | 1500 | 26 | 160 | 740 | 83.5 | |
| QW400-1700-30-200 | 400 | 1700 | 30 | 200 | 740 | 83.5 | |
| QW400-1800-32-250 | 400 | 1800 | 32 | 250 | 740 | 82.1 | |
| QW500-2500-10-110 | 500 | 2500 | 10 | 110 | 740 | 82 | |
| QW500-2600-15-160 | 500 | 2600 | 15 | 160 | 740 | 83 | |
| QW500-2400-22-220 | 500 | 2400 | 22 | 220 | 740 | 84 | |
| QW500-2600-24-250 | 500 | 2600 | 24 | 250 | 740 | 82 | |