Double Suction Centrifugal Pump
Flow range: ≤11600m3 / h
Head range: ≤200m
Diameter range: DN80-DN800mm
Working temperature: ≤105°C
Working pressure: ≤2.5Mpa
Wet ends material: cast iron, cast steel
Structure: single stage, double suction, centrifugal, horizontal
Brief introduction
SLOW series pumps have a single stage and double suction structure, which are both helpful to improving the flow rate and head. This makes these pumps ideal for conveying clean water or other liquids with physical and chemical properties extremely similar to that of clean water. These pumps feature an extremely high conveying efficiency.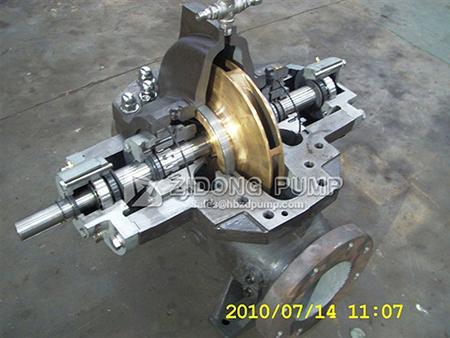 Application
This pump series is primarily used for drainage, water delivery or water reuse, and is applicable to water supply plants, agricultural irrigations, drainage pump plants, industrial water supply systems, firefighting systems, power plants and other fields.
SLOW series pumps can be used in conjunction with a sand pump in a sand dredger.
A double suction centrifugal pump is capable of conveying seawater. Simply ensure the impeller material is bronze, and it will be resistant to seawater corrosion, giving it a long service life.
Features
Due to the rotor's short axial size, this SLOW series double suction pump has a compact structure, thus improving space utilization.
The pump features a small vibration and low noise during operation. This is achieved by the following means:
The pump casing is a double-volute structure.
The rotor has a short axial dimension and good rigidity.
The pump shaft is supported by a high precision bearing.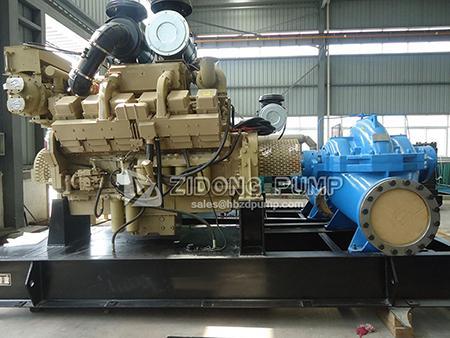 Material According to the maximum bearing pressure, there are three kinds of materials for pump casings and covers:
Gray cast iron: the maximum allowable pressure is 1.6MPa.
Nodular cast iron: the maximum allowable pressure is 2.0MPa.
Cast steel: the maximum allowable pressure is 2.5MPa.