Submersible Axial Flow Pump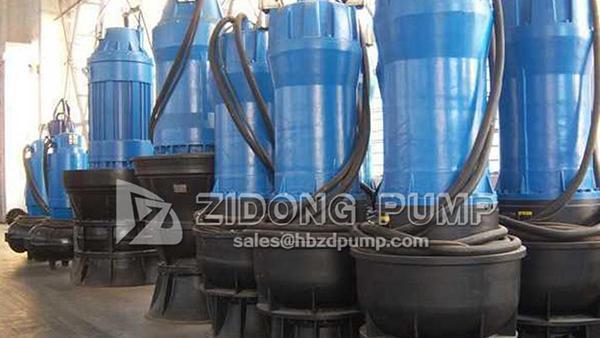 Flow range: 600-2500m3/h
Head range: 1.2-22m
Working temperature: below 110℃
Working pressure: below 1.6MPa
Diameter range: DN500-DN1000mm
Wet ends material: cast iron or cast steel
Description
QZ series axial flow pumps have an integral pump and motor structure, which are both immersed into the water for operation. This axial flow pump is used to convey clean water or other liquids with similar physical and chemical properties under a low head and large flow conditions.
This series of submersible pumps is usually used in agricultural irrigation, urban water supply and drainage, power plant water supply, and more. In addition, it is extremely suitable for building flood protection pump stations in riverside and lake areas where the water level often fluctuates.
Features
Due to the submersible operation, the installation is significantly easier, and saves total engineering costs by about 30 to 40%.
The pump has low operating noise and does not cause high temperatures inside the pump station. This improves the working conditions.
The submersible axial flow pump can be constructed in an underground pump station upon request, while still maintaining ground environmental features.
Optional models
| | | | | | | |
| --- | --- | --- | --- | --- | --- | --- |
| Model | Pipe diameter (mm) | Flow (m3/h) | Head (m) | Power(kW) | Rotary speed (r/min) | Inquiry |
| 350QZ-50-8 | 350 | 900 | 8 | 30 | 1450 | |
| 350QZ-100-4 | 350 | 1890 | 4 | 30 | 1450 | |
| 350QZ-100-5 | 350 | 1440 | 5 | 30 | 1450 | |
| 500QZ-100-4 | 500 | 2160 | 4 | 37 | 980 | |
| 500QZ-70-5 | 500 | 1728 | 5 | 37 | 980 | |
| 350QZ-50-10 | 350 | 936 | 10 | 45 | 1450 | |
| 500QZ-50-9 | 500 | 1368 | 9 | 55 | 980 | |
| 500QZ-70-6 | 500 | 2340 | 6 | 55 | 980 | |