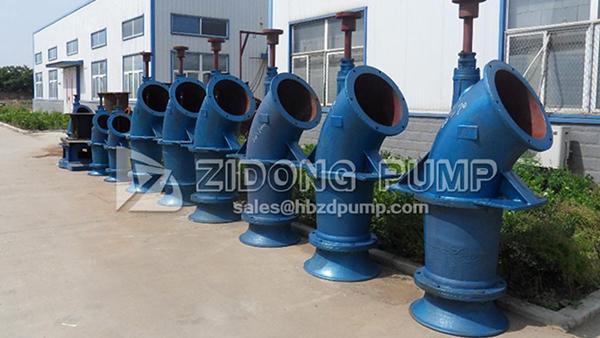 Flow range: 700-1800m3/h
Head range: 1.7-2.7m
Speed: 1200-1500r/min
Matched power: 11-18kW
Diameter range: DN500-DN1000mm
Working temperature: below 50℃
Structure: single stage, vertical, axial flow
Description
The ZLB series pump is axial flow pump will convey media along the axis of the pump shaft. This structure allows for a larger flow than in centrifugal pumps, and during operation, all components, except the motor, are immersed in the water.
This series axial flow pump is known for its low head and large flow, making it applicable to pumping and conveying clean water or other liquids with similar physical and chemical properties to water. Due to the limited allowable operating temperature, it is mainly used for agricultural irrigation, though it is often also used in power plants for recycled water transportation, urban water supply, docks for water level controlling and other water conservancy projects.
Features
The pump shaft is produced using a high quality carbon steel, and is supported by the upper and lower rubber or plastic bearings. It is water lubricated.
The bearing neck is coated with a high quality carbon steel shaft sleeve, whose surface is coated with a hard chromium in order improve wear resistance and corrosion resistance.
Other main parts are made of cast iron, including the impeller base, impeller casing, bearing base, coupling, and other components.
The ZLB series pump saves up to 10% more energy when compared to other ordinary pumps.
The relative density of the pump body is within 1.5-2.0, which is only 1/4-1/5 of the carbon steel. However, its tensile strength is close to carbon steel, which makes it comparable to a high grade alloy steel.
Optional models
| | | | | | | | | |
| --- | --- | --- | --- | --- | --- | --- | --- | --- |
| Model | Flow (m3/h) | Head (m) | Speed (r/min) | Motor power (kW) | Diesel engine power (kW) | Diameter (mm) | Efficiency % | Inquiry |
| 300ZL-2500 | 908 | 2.2 | 1200-1500 | 11 | 12 | 300(12hours) | 79.4 | |
| 300ZL-2800 | 859 | 2.5 | 1200-1500 | 11 | 12 | 300(12hours) | 79.3 | |
| 300ZL-3500 | 764 | 3.2 | 1300-1500 | 11 | 15 | 300(12hours) | 78.6 | |
| 350ZL-2130 | 1210 | 1.78 | 1200-1500 | 11 | 12 | 350(14hours) | 82.1 | |
| 350ZL-3000 | 1005 | 2.7 | 1200-1500 | 11 | 15 | 350(14hours) | 78.7 | |
| 350ZL-3500 | 1350 | 3.2 | 1200 | 18.5 | 15 | 350(14hours) | 78.7 | |
| 350ZL-4000 | 1210 | 3.7 | 1200 | 18.5 | 12 | 350(14hours) | 82.1 | |
| 350ZL-4500 | 1050 | 4.2 | 1200 | 18.5 | 15 | 350(14hours) | 78.7 | |
| 400ZL-2130 | 1800 | 1.83 | 1200 | 18.5 | 18 | 400(16hours) | 80.1 | |
| 400ZL-2500 | 1650 | 2.2 | 1200 | 18.5 | 18 | 400(16hours) | 75.6 | |
| 400ZL-2800 | 1520 | 2.5 | 1200 | 18.5 | 18 | 400(16hours) | 70.5 | |
| 400ZL-3000 | 1410 | 2.7 | 1200 | 18.5 | 18 | 400(16hours) | 75.6 | |
| 400ZL-3500 | 1300 | 3.2 | 1200 | 18.5 | 18 | 400(16hours) | 70.5 | |