Fiberglass Reinforced Plastic Pump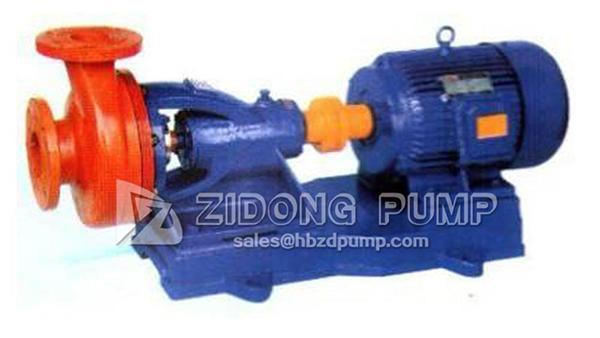 Flow range: 3.2-1100m3/h
Head range: 12.5-50m
Speed: 2900r/min
Matched power: 0.55-30KW
Diameter range: DN25-DN100
Working temperature: maximum: 100℃
Wet ends material: PVB modified phenolic fiberglass
Brief introduction
FS series fiberglass reinforced plastic pumps feature a fiber reinforced polymer/plastic (FRP) for wet ends, and are known for their light texture, high strength, high temperature resistance and alkaline corrosion resistance. That makes them especially suited to the transportation of strong base medias with no solid particles, uneasy crystallization, and a temperature that is no more than 100℃.
FS series pumps have been widely used in chemical, smelting, printing, rare earth, fertilizer and other industries.
Features
Fiberglass reinforced plastic wet ends have an excellent corrosion resistance. This material can partially replace molybdenum-containing stainless steel, titanium, titanium alloy and other precious metals.
The shaft seal is made of a WB2 type external F4 corrugated mechanical seal, which ensures the reliable seal and long life span.
Transmission is completed through the elastic coupling, which is directly driven by the motor.
Optional Models
| | | | | | | | |
| --- | --- | --- | --- | --- | --- | --- | --- |
| Model | Flow (m3/h) | Head (m) | Speed (r/min) | NPSH (m) | Efficiency (%) | Motor efficiency (kW) | Inquiry |
| S25×25-12.5 | 3.2 | 12.5 | 2900 | 3 | 41 | 0.55/0.75 | |
| S40×32-20 | 6.3 | 20 | 2900 | 3 | 50 | 1.1/1.5 | |
| S40×32-32 | 6.3 | 32 | 2900 | 3 | 45 | 2.2/3 | |
| S50×40-20 | 12.5 | 20 | 2900 | 3 | 53 | 2.2/3 | |
| S50×32-32 | 12.5 | 32 | 2900 | 3 | 51 | 4.0/5.5 | |
| S65×50-20 | 25 | 20 | 2900 | 3 | 64 | 3.0/4 | |
| S65×50-25 | 25 | 25 | 2900 | 3 | 61 | 3.0/4 | |
| S65×50-32 | 25 | 32 | 2900 | 3 | 60 | 5.5/7.5 | |
| S80×55-32 | 50 | 32 | 2900 | 4 | 69 | 7.5/11 | |
| S100×80-50 | 100 | 50 | 2900 | 5 | 73 | 22 | |