Chemical Centrifugal Pump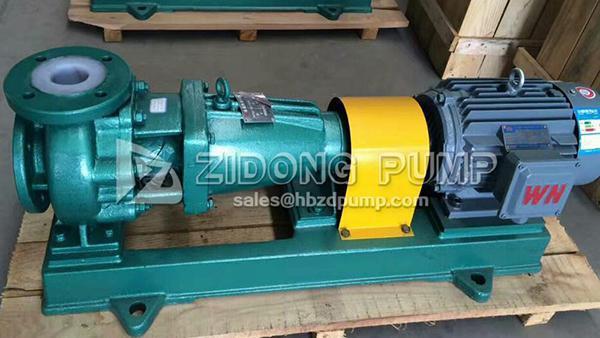 Flow range: 6.3-200m3/h
Head range: 20-50m
Speed: 1450r/min, 2900r/min
Diameter range: DN40-DN125
Matched power: 1.5-55KW
Working temperature: minimum: -20℃ and maximum: 100℃
Working pressure: maximum: 1.6MPa
Structure: single stage, single suction, centrifugal
Description
IHF series pump wet ends are made using perfluoro-propylene (F46, fluoroplastics), which gives them a strong corrosion resistance. These pumps will convey the strong acid medias of arbitrary concentrations, like sulfuric acid, hydrochloric acid, hydrofluoric acid, nitric acid, phosphoric acid, Ni acid slurry and more.
This pump series is widely used to process chemical, phosphate matrix fertilization, pharmacy, dye, pesticide, paper, textile and other industries.
Features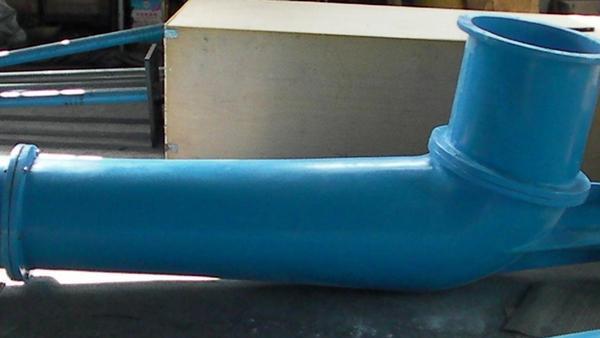 The pump body features a metal casing and fluoroplastics liner. The pump cover, impeller, shaft sleeve and other parts are sintered and compressed with metal inserts which are then coated with fluoroplastics. IHF pumps manufactured using this method feature a high strength and corrosion resistance.
Upon customer request, the pump can be paired with a motor or diesel engine.
This pump features an easy disassembly and maintenance, as well as a long service life.
Optional Models
| | | | | | | | | |
| --- | --- | --- | --- | --- | --- | --- | --- | --- |
| Model | Inlet diameter (mm) | Outlet diameter (mm) | Flow (m3/h) | Head (m) | Power (kW) | Speed (r/min) | NPSH (m) | Inquiry |
| IHF32-25-125 | 32 | 25 | 5 | 20 | 1.5 | 2900 | 2.3 | |
| IHF32-25-125A | 32 | 25 | 4.5 | 16 | 1.1 | 2900 | 2.3 | |
| IHF32-25-160 | 32 | 25 | 5 | 32 | 2.2 | 2900 | 2.3 | |
| IHF32-25-160A | 32 | 25 | 4.5 | 28 | 1.5 | 2900 | 2.3 | |
| IHF40-32-125 | 40 | 32 | 6.5 | 20 | 2.2 | 2900 | 2.5 | |
| IHF40-32-125A | 40 | 32 | 5.6 | 28 | 1.5 | 2900 | 2.5 | |
| IHF50-32-125 | 50 | 32 | 12.5 | 20 | 2.2 | 2900 | 3 | |
| IHF50-32-160 | 50 | 32 | 12.5 | 32 | 4 | 2900 | 3 | |
| IHF50-32-200 | 50 | 32 | 12.5 | 50 | 7.5 | 2900 | 3 | |
| IHF65-50-125 | 65 | 50 | 25 | 20 | 3 | 2900 | 3.5 | |
| IHF65-50-160 | 65 | 50 | 25 | 32 | 5.5 | 2900 | 3.5 | |
| IHF65-40-200 | 65 | 40 | 25 | 50 | 11 | 2900 | 3.5 | |
| IHF80-65-125 | 80 | 65 | 50 | 20 | 5.5 | 2900 | 4 | |
| IHF80-65-160 | 80 | 65 | 50 | 32 | 11 | 2900 | 4 | |
| IHF80-50-200 | 80 | 50 | 50 | 50 | 15 | 2900 | 4 | |
| IHF100-80-125 | 100 | 80 | 100 | 20 | 11 | 2900 | 4.5 | |
| IHF100-80-160 | 100 | 80 | 100 | 32 | 15 | 2900 | 4.5 | |
| IHF100-65-200 | 100 | 65 | 100 | 50 | 30 | 2900 | 4.5 | |