Horizontal Centrifugal Pump ZH Series
Diameter: DN25(1")-DN450mm (18")
Flow range: 12-5400 m3 / hr
Head range: 5-68 meters
Speed: 200-3800r / min
Motor power: 15-1200KW
Working temperature: ≤80 ℃
Structure: single stage, single suction, cantilevered, horizontal, centrifugal
Brief introduction
The ZH series horizontal centrifugal pump adopts a double-casing structure, meaning that the pump casing, pump cover and impeller have replaceable metal liners. These parts come in direct contact with the transported media, thus they have extremely high requirements regarding the abrasion resistance of the material.
Therefore, we choose the high chromium cemented carbide (KmTBCr27) as the material for inner wet ends of ZH series slurry pump. Among them, the content of Cr is over 27.5%, with a hardness exceeding 62HRC.
Application
This series centrifugal pump is characterized by outstanding abrasion resistance, making it extremely suitable for transporting slurry with high concentration and strong abrasive solid particles, like mineral sands, coarse tailing, waste sludge, lime mud, etc. In addition, the ZH series horizontal pump can also be used in the chemical industry for transporting corrosive slurry with crystals.
Today, ZH series pumps have been widely applied to ore pulp transportation in metallurgical concentrators, hydraulic ash handling in power plants, coal slurry transporting in coal washeries, river dredging and so on.
Features
The metal liners of pump body and cover can be used until worn out without replacement. This prolongs the maintenance cycle and reduces operating cost.
The discharge direction of the pump can be oriented to any 8 positions.
Bearing assembly adopts cartridge type structure for easy adjustment of clearance between the impeller and rear guard plate. And it can be disassembled as a whole for maintenance.
Grease lubrication is used for bearing to prevent the impurities and water from flowing in.
Shaft seal is optional in packing seal, auxiliary impeller seal and mechanical seal.
This series of horizontal pump can be used in multistage-series to meet requirements for long distance transportation.
The bearing assembly is movable to facilitate user adjustment of the clearance between the impeller and rear guide plate. In this way, transporting efficiency can be maintained by narrowing the impeller clearance even the pump is worn out during the operation.
Structure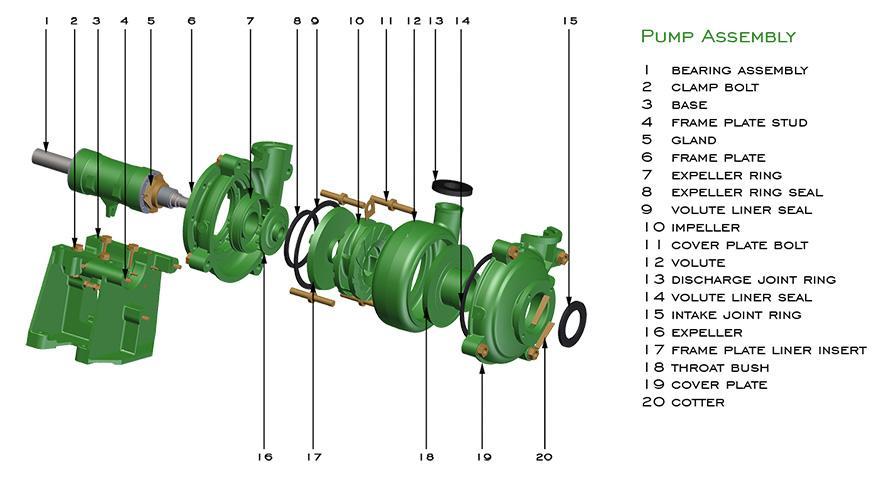 Tips: ZH series pump and ZHR series pump are only different in the material of the lining. But all other components are interchangeable. Clients can choose different materials of linings depending on the working conditions.
Parameters
Clear water performance
Note: the followings are the common specifications, and others can be customized.
1. ZH-1.5×1B horizontal centrifugal pump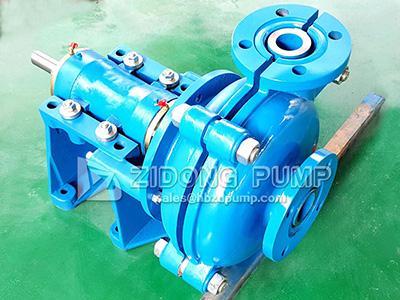 Model: ZH-1.5×1B
Max. Power (KW): 15
Capacity (m3/h): 12.6~28.8
Head (m): 6~68
Speed (r/min): 1200~3800
Max. Efficiency (η%): 40
NPSH (m): 2~4
2. ZH-2×1.5B horizontal centrifugal pump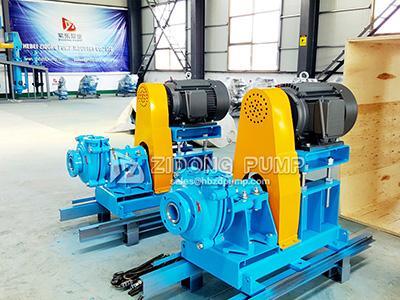 Model: ZH-2×1.5B
Max. Power (KW): 15
Capacity (m3/h): 32.4~72
Head (m): 6~58
Speed (r/min): 1200~3200
Max. Efficiency (η%): 45
NPSH (m): 3.5~8
3. ZH-3×2C horizontal centrifugal pump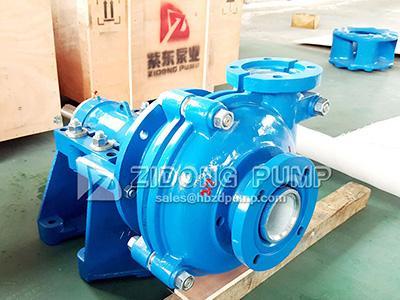 Model: ZH-3×2C
Max. Power (KW): 30
Capacity (m3/h): 39.6~86.4
Head (m): 12~64
Speed (r/min): 1300~2700
Max. Efficiency (η%): 55
NPSH (m): 4~6
4. ZH-4×3C/D horizontal centrifugal pump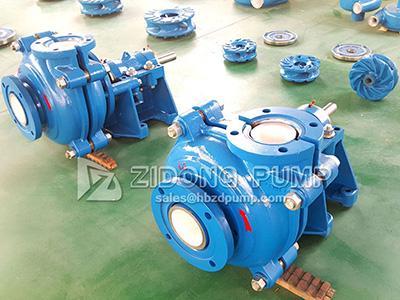 Model: ZH-4×3C/ZH-4×3D
Max. Power (KW): 30/60
Capacity (m3/h): 86.4~198
Head (m): 9~52
Speed (r/min): 1000~2200
Max. Efficiency (η%): 71
NPSH (m): 4~6
5. ZH-6×4D/E horizontal centrifugal pump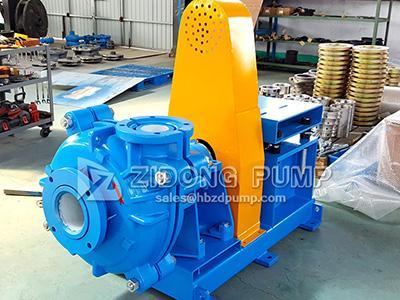 Model: ZH-6×4D/ZH-6×4E
Max. Power (KW): 60/120
Capacity (m3/h): 162~360
Head (m): 12~56
Speed (r/min): 800~1550
Max. Efficiency (η%): 65
NPSH (m): 5~8
6. ZH-8×6E horizontal centrifugal pump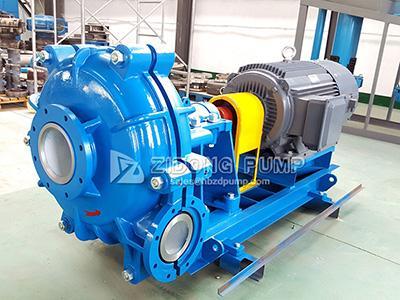 Model: ZH-8×6E
Max. Power (KW): 120
Capacity (m3/h): 360~828
Head (m): 10~61
Speed (r/min): 500~1140
Max. Efficiency (η%): 72
NPSH (m): 2~9
7. ZH-10×8ST horizontal centrifugal pump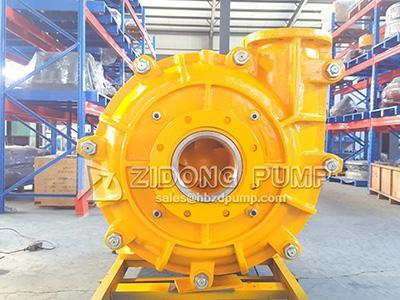 Model: ZH-10×8ST
Max. Power (KW): 560
Capacity (m3/h): 612~1368
Head (m): 11~61
Speed (r/min): 400~850
Max. Efficiency (η%): 71
NPSH (m): 4~10
8. ZH-12×10ST horizontal centrifugal pump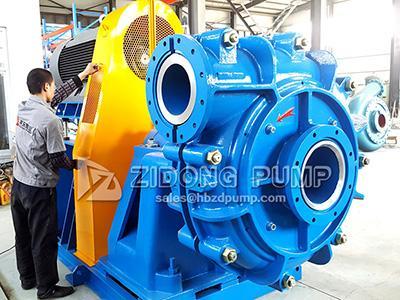 Model: ZH-12×10ST
Max. Power (KW): 560
Capacity (m3/h): 936~1980
Head (m): 7~68
Speed (r/min): 300~800
Max. Efficiency (η%): 82
NPSH (m): 6
9. ZH-14×12ST horizontal centrifugal pump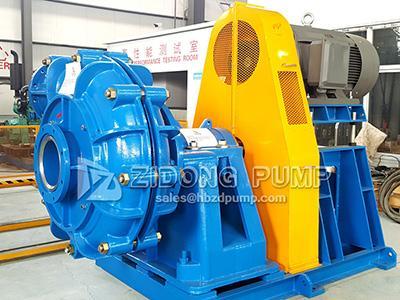 Model: ZH-14×12ST
Max. Power (KW): 560
Capacity (m3/h): 1260~2772
Head (m): 13~63
Speed (r/min): 300~600
Max. Efficiency (η%): 77
NPSH (m): 3~10
10. ZH-16×14ST/TU horizontal centrifugal pump
Model: ZH-16×14ST/ZH-16×14TU
Max. Power (KW): 560/1200
Capacity (m3/h): 1368~3060
Head (m): 11~63
Speed (r/min): 250~550
Max. Efficiency (η%): 79
NPSH (m): 4~10
11. ZH-18×16ST horizontal centrifugal pump
Model
Max. Power (KW)
Capacity (m3/h)
Head (m)
Speed (r/min)
Max. Efficiency (η%)
NPSH (m)
Inquiry
ZH-18×16ST
560
2160~5040
8~66
200~500
80
4.5~9
ZH-18×16TU
1200
12. ZH-20×18TU horizontal centrifugal pump
| | | | | | | | |
| --- | --- | --- | --- | --- | --- | --- | --- |
| Model | Max. Power (KW) | Capacity (m3/h) | Head (m) | Speed (r/min) | Max. Efficiency (η%) | NPSH (m) | Inquiry |
| ZH-20×18TU | 1200 | 2520~5400 | 13~57 | 200~400 | 85 | 5~10 | |
13. ZM-10×8E/R horizontal centrifugal pump
Model
Max. Power (KW)
Capacity (m3/h)
Head (m)
Speed (r/min)
Max. Efficiency (η%)
NPSH (m)
Inquiry
ZM-10×8E
120
540~1440
14~60
600~1000
73
4~10
ZM-10×8R
300
Quick selection chart