Horizontal Centrifugal Pump ZHH Series
Diameter: DN25(1")-DN150mm(6")
Flow range: 16-1150 m3 / hr
Head range: 25-118m
Speed: 450-2200r / min
Motor power: 30-1200KW
Working temperature: ≤80 ℃
Structure: single stage, single suction, centrifugal, cantilevered, horizontal
Brief introduction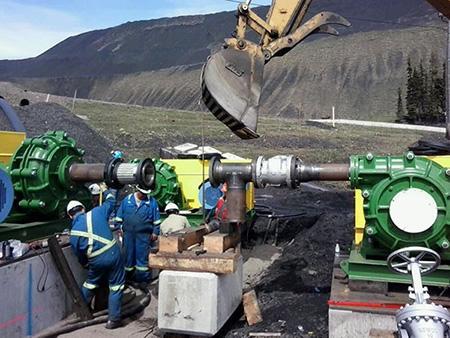 ZHH series horizontal centrifugal pumps feature ribs on the surface of the pump casing and cover in order to help them adapt to a higher pressure. With a higher head, they are then applicable for long-distance transportation, and are known as a high head slurry pump. Compared to ZH series pumps, the ZHH series has thinner vans, which further ensures the transportation efficiency. This pump series also plays an outstanding role under low concentrations of transported mediums.
This slurry pump series is widely used in mineral processing plants, coal preparation plants, metallurgy factories and thermal power plants for transporting heavy mediums such as clay and sand slurries, oil sands, refuse ores, cinders, cements, and more. It can also be used in the chemical industry in order to convey corrosive liquids.
This series of slurry pump is especially suitable for the transporting of slurry containing fine particles with no sharp angles, or weak acid, weak base and other corrosive slurry, like ore pulp, ash, cement paste, gravel, etc.
Structure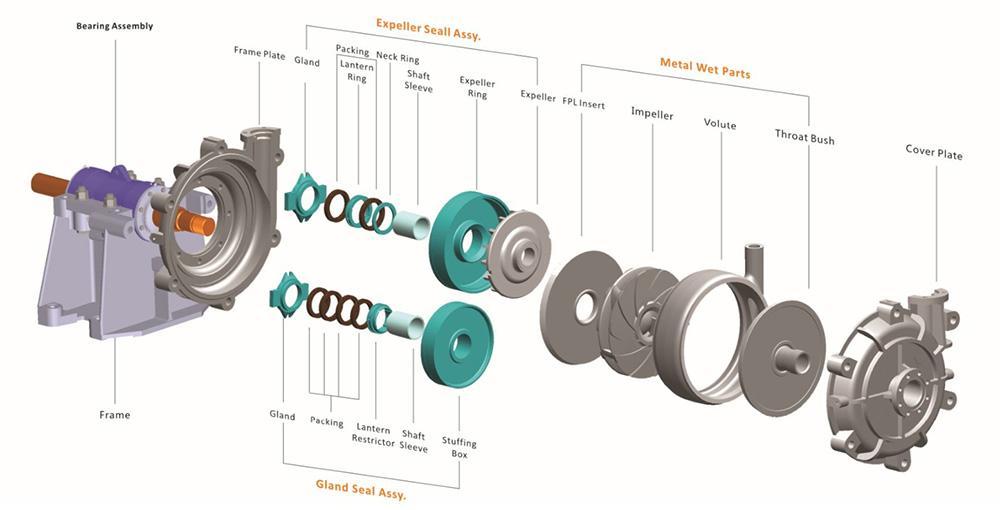 Features
The super-large diameter axis coupled with a shorter cantilever will increase the pump's life span and reliability under harsh working conditions.
The front and rear cover plates are equipped with back vanes to reduce reflux.
The bearing assembly is portable, which makes it easy for users to adjust the clearance between the impeller and front liner insert. When the pump is worn after long term usage, the conveyance efficiency is still ensured through the adjustment of the impeller clearance.
This pump can be used in both a series and multistage within its maximum allowable operating pressure range.
Parameters
Clear water performance
Note: the followings are the common specifications, and others can be customized.
| | | | | | | | |
| --- | --- | --- | --- | --- | --- | --- | --- |
| Model | Max. Power (KW) | Capacity (m3/h) | Head (m) | Speed (r/min) | Max. Efficiency (η%) | NPSH (m) | Inquiry |
| ZHH-1.5×1C | 30 | 16.2~34.2 | 25~92 | 1400~2200 | 20 | 2~5.5 | |
| ZHH-3×2D | 60 | 68~136.8 | 25~87 | 850~1400 | 47 | 3~7.5 | |
| ZHH-4×3E | 120 | 126~252 | 12~97 | 600~1400 | 50 | 2~5 | |
| ZHH-6×4S | 560 | 324~720 | 30~118 | 600~1000 | 64 | 3~8 | |
| ZHH-8×6S | 560 | 468~1008 | 20~94 | 500~1000 | 65 | 4~12 | |
| ZHH- 8x6T | 1200 | 576~1152 | 30~95 | 450~725 | 65 | 6~10 | |
Quick selection chart