Vertical Centrifugal Pump ZF Series
Flow range: 7-650m3/h
Head range: 5-30m
Operation temperature: below 200°C
Matched Power: 15-110KW
Material: Metal or Rubber
Diameter range: DN50-DN200mm
Allowable max. particles: 72mm
Speed: 350-1800rpm
Brief introduction
A variety of flotation processes will produce a froth slurry, usually presented as a high viscosity liquid. This slurry is not easily transported using ordinary pumps. It is for that reason we designed the ZF series vertical centrifugal pump, which features a large diameter, open impeller and enlarged inlet size, thus giving it a conveying capacity that is larger than other pumps.
ZF series pumps are applicable to a variety of flotation processes, such as flotation benefication. This pump has been widely used in metallurgy, mines, coal, chemical and other industrial fields.
Structure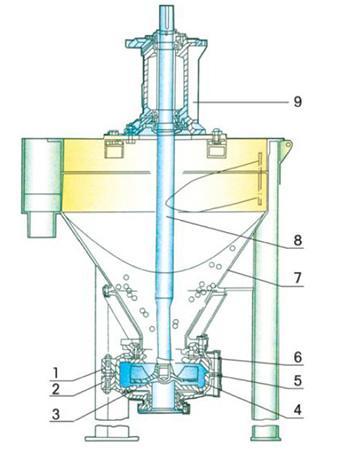 1. Frame plate
2. Cover plate
3. Cover plate liner insert
4. Volute
5. Impeller
6. Frame plate liner
7. Tank
8. Shaft
9. Bearing housing
Characteristics
The pump head features a double-casing structure. According to the different materials being conveyed, the wet ends can be made of metal, rubber, or other non-metallic materials.
The pump's hopper tank is made using steel or stainless steel, and is equipped with an overflow box and tangential inlet. The overflow box easily sends excessive slurry back to the slurry pool. The tangential inlet quickly drives the slurry back into the pump and eliminates part of the froth.
The ZF series pump features a bearing housing that is equipped with a motor base or motor frame, and uses either direct drive or indirect drive. This makes it easy to replace the pulley for adjusting the pump speed, and meets the needs of a variety of working conditions.
The pump's drive shaft parts are interchangeable with ZP/ZPR pumps, which makes interchangeability and maintenance easy.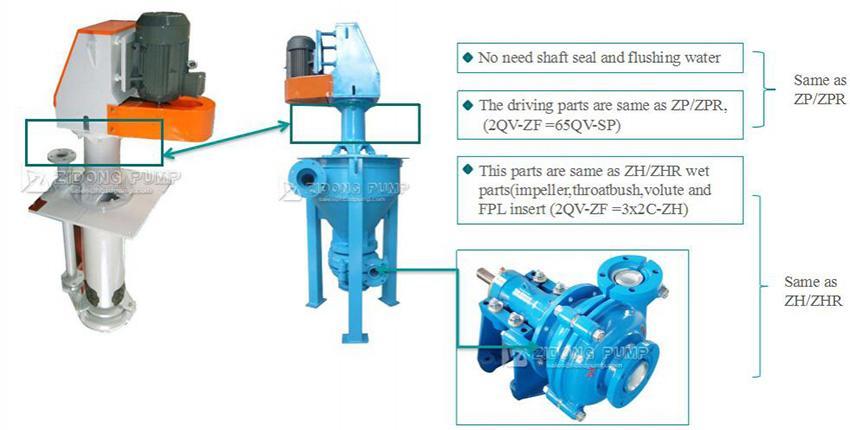 Parameters
Model selection table (clear water performance table)
| | | | | | | | |
| --- | --- | --- | --- | --- | --- | --- | --- |
| Model | Max. Power (KW) | Capacity (m3/h) | Head H (m) | Speed n (r/min) | Max. Efficiency (η%) | Impeller (mm) | Inquiry |
| 50ZF-2QV | 15 | 7.2-33 | 6-29.5 | 800-1800 | 0.45 | 229 | |
| 75ZF-3QV | 20 | 10-104 | 5.2-28 | 700-1500 | 0.55 | 268 | |
| 100ZF-4RV | 40 | 15-130 | 5.4-25.5 | 500-1050 | 0.55 | 397 | |
| 150ZF-6SV | 75 | 55-330 | 5.4-22.6 | 350-650 | 0.55 | 560 | |
| 200ZF-8SV | 110 | 126-575 | 5.8-25.2 | 360-650 | 0.55 | 560 | |
Quick selection chart